WatchGuard are one of the leading manufacturers of network security equipment and cyber security tools. Labyrinth are a WatchGuard Gold Partner and have been recommending, installing and managing their products for over a decade.
The majority of our Managed IT Support clients now have a WatchGuard firewall in place to protect the network, but WatchGuard also provide a range of other products such as authentication solutions and web security software to protect devices used outside of the office.


WatchGuard products deliver industry leading results in threat detection and response. They have a reputation for uncompromising performance when it comes to throughput, robust security and providing excellent value.
It is now fundamental that all organisations have a dedicated firewall in place to protect their network. WatchGuard firewalls provide Unified Threat Management (UTM) capabilities in the form of a physical UTM appliance and security subscriptions which provide protection against a wide range of threats all from a central point. As part of these subscriptions you have access to next day hardware replacement, web filtering, anti-malware tools and advanced threat detection and prevention features that help protect against sophisticated attacks like ransomware and zero-day (undiscovered) malware.
WatchGuard's DNSWatch and DNSWatchGO product protects company devices both inside and outside of the office network. DNSWatch products help prevent employees from accessing malicious or unsuitable content such as phishing websites.
When an employee attempts to access malicious content they are redirected to a phishing awareness page to help educate them. WatchGuard firewalls and DNSWatchGo clients can all be managed via one centralised cloud policy.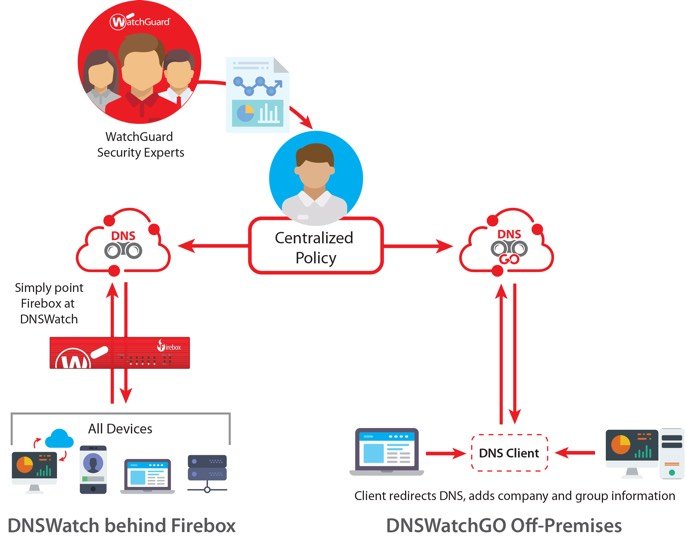 WatchGuard's AuthPoint product provides multi-factor authentication to third party cloud applications all from a central portal using the AuthPoint mobile app. Users can quickly and securely gain access to cloud systems without having to manage multiple credentials.
Using WatchGuard AuthPoint push notifications, users can get a pop up on their mobile phone (or even a smart watch) asking whether they wish to authorise the login attempt. You can also use WatchGuard AuthPoint to add an additional authentication layer for Windows and MacOS.