Microsoft Teams is one of the most popular collaboration and communication tools available in the market today. The platform has evolved significantly since its launch in 2017, and Microsoft has continued to enhance the product with new features and capabilities to meet the changing needs of businesses and organisations. In this article, we will take a closer look at the new features and capabilities that Microsoft has introduced in the latest version of Teams, which is now available in preview.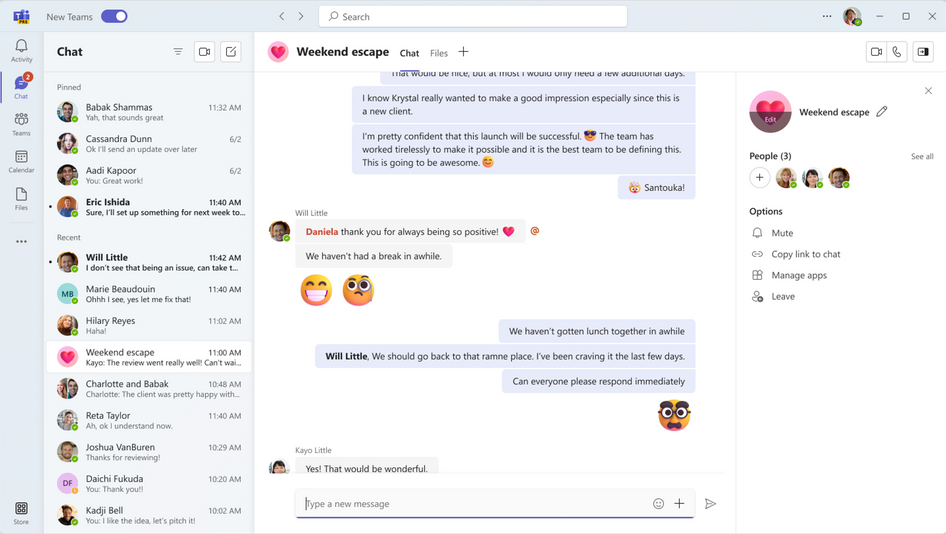 Faster and More Resource Efficient
The updated Teams app now launches and enables you to join meetings up to twice as fast, freeing up more time to prioritise your work. It has also been optimised for efficient system resource usage, reducing memory consumption by up to 50%.
(Source: Microsoft)
Efficient Collaboration Across Multiple Organisations
With New Teams, you'll be able to enhance your collaborative efforts beyond organisational boundaries by simultaneously logging into multiple accounts and receiving instant notifications regardless of which one is active. This feature allows you to interact smoothly with users from various accounts and organisations without any interruptions to your workflow, such as dropping out of a call or meeting.
In addition to these new features, Microsoft has also introduced several new security and compliance capabilities to help keep data safe and secure. These include the ability to control access to sensitive data, prevent data leakage, and monitor user activity to identify potential security threats.
Getting Started With The New Teams
If you're part of the Public Preview Program, you'll be able to instantly access the toggle to Try the new Teams. For those in the Targeted Release Program, the preview of the new Teams will be available from mid-April 2023. If you're already in production, your administrators can choose to opt-in by utilising the Teams update management policy to determine which users in your organisation can access the toggle and start using the new Teams.

For more information, please visit: https://techcommunity.microsoft.com/t5/microsoft-teams-blog/introducing-the-new-microsoft-teams-now-in-preview/ba-p/3774406