8×8 is a leading worldwide provider of VoIP (Voice over Internet Protocol) telephony. Labyrinth Technology has partnered with 8×8 to offer their innovative and fully featured telephone system to our business customers.
The 8×8 solution provides not only a business class telephone system but also and all-in-one collaboration tool for desktop and mobile devices with voice, video, private and team chat.
The core product is a Cloud PBX that offers all of the functionality you would expect from a modern, world class telephone system.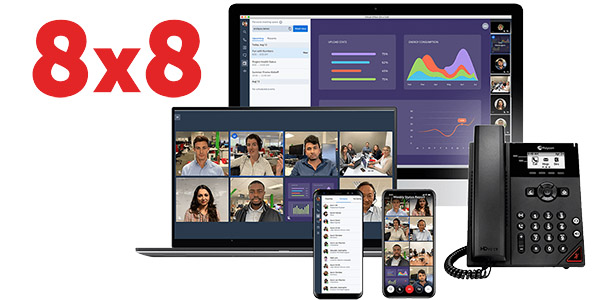 All of the features that you would expect from such a service are there: Multi-Level Auto Attendant, Call Recordings, Music on Hold, Number Porting, Call Forwarding & Transfer, Conference calling, Ring Groups, Call Monitoring and much, much more.
The system features an Easy Administration portal that allows for Role-Based access controls across your organisation.
The 8×8 service ensures high reliability and business continuity by delivering its cloud-based communications using secure, fully redundant data centres.

Traditional business phones (PBX systems), with their cable-filled closets and exorbitant monthly calling fees, have long been marching toward extinction. As of 2019, Frost and Sullivan estimated more than 82 percent of businesses had adopted or were planning to adopt a Cloud PBX in some part of their business. Events in 2020 suggest that percentage is going to accelerate even more.
Labyrinth Technology has been installing, configuring, supporting and managing VoIP telephone systems such as the 8×8 offering for many years. Our friendly and knowledgeable team will be able to give you the best advice on the solution right for your business. So contact us now to discuss your business communication needs: we promise No Hard Sell!