Troubleshooting can help you identify and fix issues if you were expecting an email but it never showed up or if you're missing new messages in Microsoft Outlook. In order to assist you in getting Outlook back up and running, we have compiled information about typical causes of email delivery issues.
1. Check if you are online
Although it might seem easy enough, run another software that needs online access to make sure you have an active connection to the Internet.
In Outlook, on the Send/Receive tab check if Work Offline is selected. If the background of the Work Offline button is shaded (as shown in the image below), you're not connected. Click on the button again to reconnect.

2. Restart Outlook
Outlook and other programmes can occasionally hang up or stop responding altogether. Any problems that prevent receiving emails may be resolved by closing and reopening Outlook.
3. Use Send/Receive option
Click on Send/Receive menu option and click on Send/Receive All folders.

4. Tweak your account settings
Go on to File > Account Settings

On the Email tab, choose your account (profile), and then choose Repair.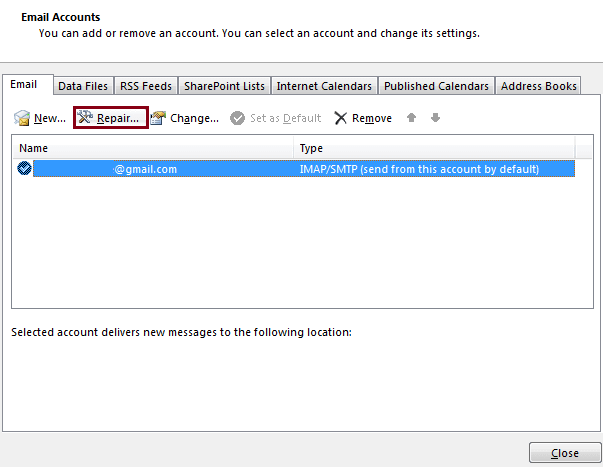 Once you've completed the wizard's instructions, restart Outlook.
5. Check your mail server
An issue with the external mail server may prevent you from downloading your emails even if Outlook is properly configured. With the email service provider that your company uses, check the server's status: for instance, Google provides online status report tools. It may be possible to determine whether the issue is with the Outlook application or your email server by opening your email in a different application, such as a Web-based portal. If your mail server account is with Microsoft use outlook.com. If the issues persist, speak with your IT administrator or email provider directly.