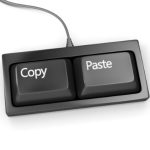 We all take the copy and paste functionality in Windows 10 for granted. Whether it is "right click and copy" or "CTL+C" the need to replicate data (text, table, image etc) has long been part of the daily process for anyone that uses a computer.
But what if you use more than one device? Did you know that you can copy an item from one device and then paste it to another? Here's how.
First, make sure that you are signed into your Windows or Microsoft account. This only works if the item that has been copied to the clipboard can be synced across your devices by way of the Cloud, and this has to be done using your cloud account.
Once signed in, go to Start > Settings > System. Once you are in there scroll down the left-hand menu until you see Clipboard.
Clicking on Clipboard opens this setting where you will find three options:
Clipboard history

, which you can switch on and then save multiple items to the clipboard so you can use them again later (but be careful, as too much in the clipboard might possibly affect the memory and performance of your device, so make note of point 3).

Sync across devices

, which is what you need to enable. Once done you can copy data from one device and paste it on another.

Clear clipboard data

, which is very useful to remember if you are going to switch on the above functionality. This is a manual clear out of everything in your clipboard.
Hopefully this will be of use, but as always, take care whenever you make any changes to your settings.