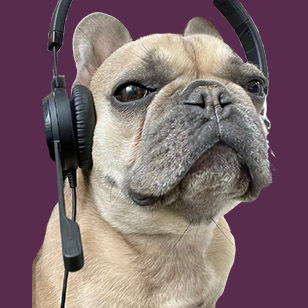 Willow
Director of Staff Morale
When did you join the Labyrinth team? 
I joined Labyrinth in October 2019 as Chief Good Girl and have since extended my role to include morale boosting activities and visitor notification duties. Before that I was at home with my dad doing my basic training, which apparently, I passed with flying colours! 
In your own words, what is it that you do at Labyrinth? 
My role involves keeping the team in high spirits so they can do a great job. This often involves chewing my toy bone (not the cables, naturally!), having stroking sessions with Abel, playing with Jamal (I let him use my laser pen for me to chase) and sitting on Wesley's lap (nice!!). I also have the important jobs of always being open to offers of food, tummy tickling, toy chasing, and of letting everyone know when the postman arrives.
Outside of your busy work life, what do you like to do? 
Outside of the office, I love to chase birds and squirrels, learn new skills and tricks, go on long walks with lots of flowers to smell and play with my toys, especially the squeaky spiky ball. I can get easily distracted from these activities though, as I'm often called upon to perform for my adoring audience of admirers as I'm out and about around town. 
What is your favourite film? 
I love watching The Lady and the Tramp, but I always get jealous of the Lady in the spaghetti scene, for two reasons – I'd love a boyfriend one day and meatballs are wooftastic! 
And what is your favourite book? 
I don't have a favourite book because I don't know how to read. I'm a dog, silly! Maybe I should try audiobooks?
Sorry about that. What about a favourite holiday destination? 
Going to my Aunt's house. She always buys me new toys and gives me too many treats, so I'm usually a little on the porky side when my dad comes to take me home to London. 
Do you have a favourite quote? 
"Dogs do speak, but only to those who know how to listen", from My Name Is Red by Orhan Pamuk which my dad read to me. Wise words!